As we updated us with lots of her adorable pictures,
now she did change her Cyworld status.
From TINGLED/FLUSTERED with matching beating pink heart,
her status is now JOY
with what I see as a cherry or an apple!
(Can't really classify it correctly! LOL
!
If you Minnies do have
a definite answer of what the icon is, please let us know)
This is the Cyworld of MinMin!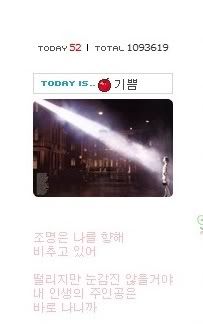 Her status now is JOY!
Glad to know she's in joyful mood!
Thanks MinMin for your updates!
Your Minnies are sure glad that we can still get to know you and your moods
thru your
Cyworld
even we don't get to see you as of the moment!
credit: jungsomin's cyworld
NOTE: PLEASE DON'T HOTLINK!!!