I'm missing Jung So Min and HyunMin so badly, so just to ease up my cravings for any news from them I'm re-watching Playful Kiss again (yup, I did re-watch it countless times already!).
And no matter how much I love PK as a whole there were always be my favorite things about it. Whether its a person, a scene, things, outfits or even gadgets. Those little things never pass up thru my sharp eyes. Hehehehehe!
Please note that I didn't include the our lovable OTP because I think its already given that they are my ultimate favorite!
So, here are my Top Ten Favorite Things in Playful Kiss.
In no particular order.
>>>

Oh Hani's hundred hairstyles

-With Jung So Min's wonderful expressions also comes with her hundred hairstyles. Her many hairstyles helps Oh Hani to be so endearing!
>>>

Mama Baek

-After our OTP she's next in line for being my favorite character in Playful Kiss. I love her because she's such a cool mom and she loves Oh Hani very much. And isn't such a breathe of fresh air to see the mother-in-law in a K-drama isn't objecting the OTP instead she pushes them to be together. How cool is that!
>>>

Baek Seung Jo's Car (Black Mini Cooper)

- I already love Mini Cooper even before PK but now I love it even more because of PK, because its such a cute but stylish car! How I wish I could have one!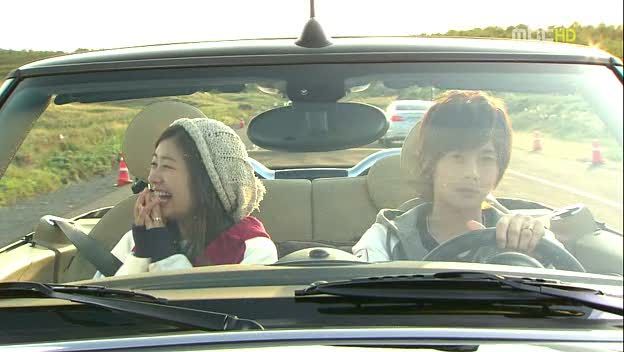 >>>

Seung Jo and Hani's mobile phones

- I really like the phones they used in the PK series. It looks so cute and user friendly! And the colors are so vibrant and an eye catcher!
>>>

Hani and Jon Gu Swing scene

-One of the strongest points of PK was its poignant moments showered throughout the drama. But one of the scenes that really touch me was the swing scene of Hani and Joon Gu, I love how that simple scene have such a big impact in the characters. Its really the goodbye for Joon Gu of his feelings for Hani. And its also the testament of Hani being really binded to Seung Jo, he is her home now.
>>>

The Teddy Bears

-At first, I really hated the teddy bears during the closing credits of every PK episode, I felt that they were mimicking Goong but they did grew on me so gradually I do love them too and maybe because the teddy bears were so cute. Who can hate such cute things?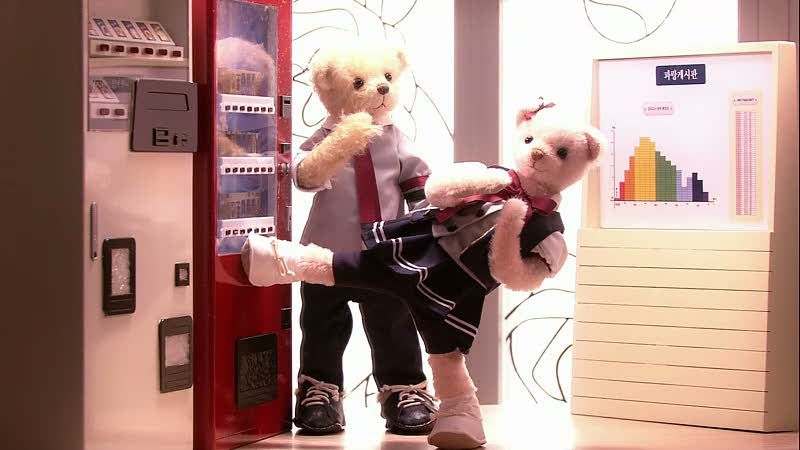 >>>

Balcony/Terrace

- If you will notice in the PK series or even in the Youtube episodes, most of the sweet and important conversations between Seung Jo and Hani happened in the terrace/balcony, like the the sweet backhug happened in the terrace or the Seung Jo Jr talk in YT episode 3. (I bet you will re-watch to really see it, right? Hehehehehe!)
>>>

Oh Hani's shoes

-Shoes, shoes, shoes! Every girl I think loves shoes,
as mentioned by my co-blogger Me
la but I particularly loves Oh Hani's shoes especially those uber cute and comfortable flats! Where can you see a flats having a panda as a design on it? Only Oh Hani can stylishly pull that off!
>>>

The Noah's snail trait

- Oh Hani is already an endearing character to begin with blessed with a good heart and sunny personality but what makes me love her more is her Noah's snail trait. Even though other's might take it as a negative trait, I love her perseverance and determination not only in the field of love but also in the field of life.
>>>

The Lid and the Pot

- I love how this simple terms was used to describe the dynamic of the relationship between Hani and Seung Jo. Even though both of them are flawed in their own ways (Seung Jo being genius but lacking in the EQ department while Hani is abundant in heart but scarce in IQ department) but together they create an endearing pair. The Lid and the Pot emphasize the importance of one to another and how they fill and compliment the lacking of each other. And it also gives nod to the saying that one person always have someone to be destined for.
Well, that's it! Some of the things that I listed might not be your favorite but still for me having them in the drama made my Playful Kiss watching (and re-watching) more fun!
If you have your own PK favorites please share it with us! We might have a thing or two in common!
credits: samsung, mbc for the pics